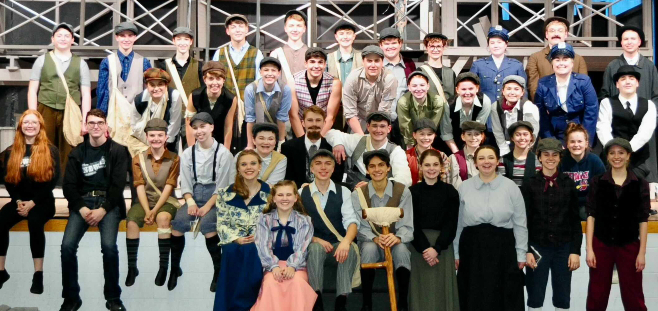 Welcome to
West Branch Rose City Area Schools
Dedicated to Excellence in Education
From The Superintendent:

July 26, 2021
Dear West Branch-Rose City Area Schools Staff, Students, and Families:
Questions are beginning to arise as to what the 2021-22 school year will look like for our students and staff at WB-RC. Before we share our district's current plans for next year it is important to note that, as a public school district, we are subject to a number of authorities regarding any and all restrictions. We must adhere to all requirements from any of these agencies while we have the independence and discretion to make decisions based on our local conditions for recommendations. The mechanism that is used to enforce compliance with requirements is school funding. Failure to follow requirements could result in withholding school funding which would have significant educational impacts on all of our students. Entities that can and have put forth regulations that we are required to follow include: The State of Michigan, MDE, CDC, MDHHS, District Health Department No. 2, MHSAA, and MIOSHA.
Frequently Asked Questions
While we do not have answers to all questions and circumstances yet, what follows is what we know as of this communication. Throughout the pandemic we have adapted and made changes to the very fluid and ever changing landscape of the COVID-19 pandemic. We will continue to do this and will provide updates with new and additional information as it becomes available.
What learning format will WB-RC be using for the 2021-22 school year?
WB-RC is planning for all students to attend school in person, full-time, five days per week for the 2021-22 school year. We are planning for our students to be able to participate in all of our after school and extracurricular activities, including athletics.
Will there be a virtual learning option?
This past school year we presented a 100% virtual learning option that was available to all students that included a WB-RC teacher working to facilitate and deliver instruction through Accelerate Education and Canvas. We were able to offer this instructional model because of legislative action that temporarily altered the pupil accounting/seat time requirement that all schools must adhere to. That temporary change has now expired, meaning we must adhere to seat time requirements and traditional pupil accounting rules and can no longer offer the same version of 100% virtual that we did during the 2020-21 school year. This means any virtual learning options we offer to families will look much different moving forward and will not include direct instruction from our WB-RC teaching staff.
WB-RC is committed to providing the best teaching and learning environment to our students. Our best model and use of our resources is through traditional face-to-face learning. Any WB-RC families with students interested in 100% virtual learning for next school year will only be allowed to do so if they have a medical condition verified by a certified physician and after they have been screened to confirm they have been successful with virtual learning in the past. More information about virtual learning will be available when the school offices reopen in August.
Will students enrolled 100% virtually be allowed to participate in WB-RC sponsored extracurricular activities?
No, any students who wish to participate in our extracurricular activities must be enrolled in traditional face-to-face learning.
Will face masks be required at school or during extracurricular activities?
Face masks are not required for students or staff at this time, regardless of vaccination status. Students and/or staff will have the option of wearing a face mask at their own discretion.
Will face masks be required on school buses?
Per the CDC, masks are still required on school buses for drivers and passengers. We will continue to closely monitor this requirement as we approach the start of the school year.
Will my child be required to get the COVID-19 vaccine in order to attend school?
No, the COVID-19 vaccination is not listed on the required school vaccination list.
Will WB-RC separate students who are vaccinated from students who are unvaccinated?
No, students will not be separated by their vaccination status. WB-RC recognizes that the decision to be vaccinated is an individual choice.
Will all restrictions be removed for the 2021-22 school year?
This is a difficult question to answer. Many of the protocols put into place last year were required and are good practices to continue. For example, the district invested in high quality air filters and UV lights to increase the air exchange rate and mitigate the spread viruses as well as increased cleaning frequency of classrooms and high contact areas. Not only did this reduce the likelihood of COVID transmission, it also effective at reducing the cases of the common cold and flu. During the course of last school year many of the restrictions that were required to be put into place were removed and we are hopeful most, if not all, of these restrictions will remain removed for next school year.
Will WB-RC still be contact tracing?
Schools in Michigan are required to report communicable diseases to their local health departments prior to the COVID-19 pandemic and we remain required to do so.
Will WB-RC be quarantining students and/or staff?
We are still seeking answers to this question. We will provide more information and clarity on this subject as it becomes available.
Will student-athletes be required to do rapid antigen testing as a condition of participation?
Per the MHSAA "there are no longer any MDHHS COVID requirements or restrictions on testing, gatherings, groups, and face masks for any sports activity, both indoors and outdoors." WB-RC has no plans to require student-athlete testing for 2021-22 unless it becomes a condition of participation by MDHHS or the MHSAA.
How many people will be allowed to attend school events?
There are currently no limits or restrictions on gatherings.
When will parents have more information about the 2021-2022 school year?
This letter provides the most current information we have at this time and we expect more clarification in the coming weeks. We will communicate with families as more information becomes available. In addition, your student's school will be sending communication through traditional methods, including social media and the district website.
Will non-school groups be permitted to utilize the WB-RC facilities for activities?
Non-school/outside groups will be allowed to utilize our buildings and facilities as we have in the past. To inquire about building usage, please contact Jack Vliet, Athletic Director at vlietj@wbrc.k12.mi.us or by calling the Ogemaw Heights High School Office.
It is our hope that this communication answered questions many of you have as we approach the start of the school year. In closing, I would like to thank you once again for your patience and understanding last school year and moving forward to the upcoming school year. We are hopeful and excited about starting the school year as "normal" as possible.
Sincerely,
Phil Mikulski, Superintendent
Please click on the above dashboard link for the latest COVID-19 data which will be updated frequently through coordination with the Health Department No. 2 in order to provide public notice regarding new and cumulative COVID-19 case counts.

With this new dashboard in place, the district will no longer need to utilize School Messenger to notify parents as it will be updated and available at all times for parent review.