Ogemaw Heights High School Mission Statement
Ogemaw Heights High School, unified in partnership with parents and community, provides high quality education. Offering rigorous and relevant programs along with diverse opportunities, we prepare students to become productive, responsible and resourceful members of the 21st century.
OHHS Calendar
OHHS Calendar

‹

April

2020

›

S
M
T
W
T
F
S
1
2
3
4
5
6
7

Apr 7

10:30 AM to 12:15 PM

Senior Announcements Delivered

Senior Announcements Delivered (outstanding fines must be paid)

8
9

Apr 9

4:00 PM to 7:00 PM

Open House / Parent Teacher Conferences

10
11
12
13

Apr 13

6:00 PM

Committee of the Whole-CANCELED per Executive Order 2020-15

Calendar:

District Calendar

6:00 PM to 8:00 PM

Committee of the Whole

Location:

Office of the Superintendent on the OHHS Campus

14

Apr 14

SAT & WorkKeys 11th Grade

The SAT and WorkKeys will be administered to the 11th grade students at OHHS

15

Apr 15

SAT & WorkKeys 11th Grade

The SAT and WorkKeys will be administered to the 11th grade students at OHHS

16
17
18
19
20

Apr 20

6:00 PM to 8:00 PM

Board of Education Meeting

Calendar:

District Calendar

21
22
23

Apr 23

8:30 AM to 9:30 AM

Sophomore & Junior Academic Excellence Awards

Location:

OHHS Auditorium

Sophomore & Junior Academic Excellence Award Program starts at 8:30 am. Invitations will be mailed to all students receiving the awards.

24
25
26
27
28
29
30
IMPORTANT MESSAGE FROM SUPERINTENDENT MIKULSKI 4-2-2020
Good afternoon West Branch-Rose City Students, Families and Staff:
As I am sure you are aware, Governor Whitmer signed an Executive Order today which closed schools for the remainder of the year.
We know that this order brings about MANY questions and I want to ensure all of you that we will work tirelessly to develop a comprehensive plan that will address the MANY issues and questions including, what will learning look like for the remainder of the year, what food services will continue during the shutdown and how we will honor our seniors who were scheduled to walk across the stage to receive their hard earned diplomas this June.
At this time, I am asking for your continued patience and support as our district navigates through this very fluid situation.
Please continue to watch our district and building Facebook pages and monitor your phones for robocalls from district leaders as plans are developed.
Thank you and please stay safe and healthy.
Sincerely,
Phil Mikulski, Superintendent
* * * * * * * * * * * * * ** * * * * * * * * * * * * * * * * * * * * * * * * * * * * * * * * * * * * * * * * * * * * * * * * * * * *
Principal's Message

Dear Parents, Students and Members of the West Branch-Rose City Communities,
I am extremely proud to have the opportunity to serve as your Principal at Ogemaw Heights High School. I would like to personally thank you for taking the time to visit the Ogemaw Heights High School home page. I encourage all of you to visit the site regularly for announcements regarding important dates and upcoming events.
The goal of the Ogemaw Heights High School community is to provide high quality academic, athletic, performing arts, career technical educational and student-centered organization experiences. As you will see below, we truly offer something for everyone.
Academics: We provide a full range of challenging course offerings. These courses are designed to allow students to meet the graduation requirements of the Michigan Merit Curriculum. Whether your student is looking to graduate in a career readiness or college preparedness program, we provide the courses to make that goal a reality.
Athletics: Ogemaw Heights is a class B school with a rich athletic tradition that offers a full complement of activities for students of all ability levels. All competitions are sanctioned through the Michigan High School Athletic Association (MHSAA).
Performing Arts: Course offerings in the areas of art, choir, band and drama are designed to give students the chance for artistic expression while reinforcing the academic programming. Students participate in performances throughout the school year.
Career Technical Education: Unique to this area, Ogemaw Heights offers comprehensive, in house, opportunities to learn skills in the areas of building trades, computer aided design and drafting (CAD), machine tool operator, agriscience and health science. These courses are designed to provide students with the skills and training to obtain entry level positions in the area of their interest. Early Middle College (EMC) opportunities exist in the field of construction trades through Delta College.
Student Centered Organizations/Clubs: There are opportunities for participation that cover a wide range of interests. Here at Ogemaw Heights, we offer students the choice of one or more of the following: National FFA (FFA), Health Occupations Students of America (HOSA), Skills USA Competition, Student Council, National Honor Society, Knowledge Bowl, Science Olympiad, and Youth Advisory Committee (YAC).
Support: For students who need a little extra assistance, we offer Study Sanctuary Tuesday-Friday, math, English and science Tutoring Tuesday-Friday, Credit Recovery Programming during the summer months, and online credit recovery (E2020/ Edgenuity) during the school year. Ogemaw Heights also has math and English courses that are offered in a co-taught format with two "Highly Qualified" educators in the classroom.
I thank you in advance for your support. Should you have any questions, concerns, needs, or would like a tour of our facilities, please do not hesitate to contact me and I will assist you in any way I can.
Yours in Education,
Benjamin G. Doan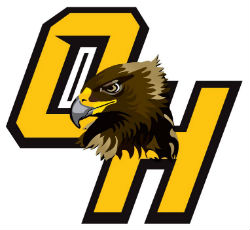 Attendance
(989) 343-2020
Option 2
Physical Address
960 S. M-33
West Branch, MI 48661
Office Hours
7:00 AM - 3:30 PM
School Hours
7:25 First Bell
7:30 AM - 2:19 PM